A dental implant is a titanium post placed into the jawbone, on top of it a single crown (cap), a fixed bridge, a partial denture, or full denture can be attached. Once the implant integrates to the bone, a structure called an abutment is connected to the implant and then the artificial tooth/teeth are attached.
Therefore, there are 3 parts to an "implant tooth":
the dental implant itself, the abutment, and the artificial tooth.
When missing only one tooth, it might be in the best interest of the patient to preserve the remaining teeth as they are. Dental implant crowns are made over an implant to replace the missing tooth. The crown is made to replicate the missing tooth and blend with the remaining dentition.
When missing two or more teeth next to each other, a bridge over 2 or more implants is a great option. The replaced teeth are attached to two dental implant crowns. The bridge is made to replicate the missing teeth and blend with the remaining dentition.
Removable prosthesis retained by implants
When missing several or all teeth, complete or partial dentures can be fabricated to be retained by dental implants as well. These are customized for each patient.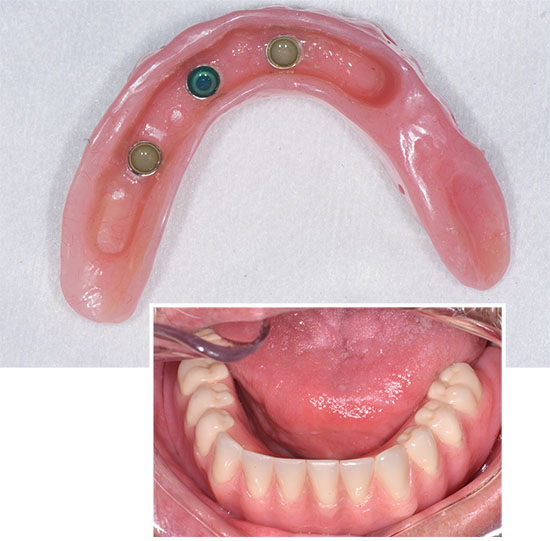 Hybrid prosthesis is a prosthodontic/surgical procedure that provides a permanent fixed dental solution where a bridge replaces a full set of teeth.
There are many different terms that refer to the same concept:

"All-on-X", "Teeth in a day", "New Teeth In Just One Day", "Teeth in One Day", "Teeth in 24 Hours". All of them describe the same type of procedure with different approaches.
If you are about to lose all your teeth, or you lost all your teeth, this might be the treatment option you want to get. 
It restores all the missing dentition with one single bridge on each arch, meaning one bridge for the top teeth and/or one bridge for the bottom teeth. 
Implants are strategically placed in your jaw to function as the anchors for the one-piece bridge, the bridge will be screwed in to the implants and you will not have to remove your teeth out of your mouth at any time.
This treatment offers the closer option to having all your natural teeth back. You will be able to chew your favorite food and you will smile with confidence that your teeth are and look great.
At Cordido Dental Pros, we will gather all your records, including photos, models, 3D x-rays among others. Then, we will proceed with the planning of the treatment, tailored to your needs, customized to meet your goals. 
Then, the big day comes, the day where all the magic happens and you get the surgical/prosthetic procedure done and go home with a set of temporary teeth. These temporary teeth look great and feel awesome. 
They help you go during the healing period of your dental implant procedure while been able to chew and smile.
After a few months, and once you are completely healed from the surgery day, we will fabricate your new and final teeth. 
Because there are None "two of a kind". We, at Cordido Dental Pros, design each case completely customized and tailored to each patient. And that sets us apart.